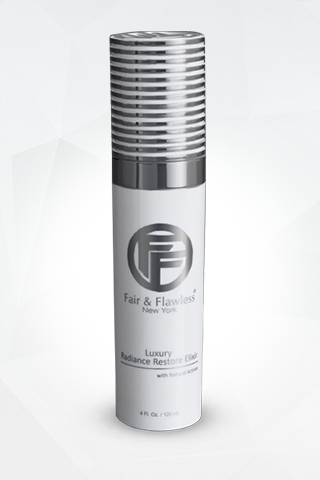 RADIANCE RESTORE ELIXIR
Regular price
$199.99
Sale price
$80.00
/
---
Free Shipping for domestic orders over $100
Free Shipping to South Africa, UK and Canada for orders Over $500
FAIR & FLAWLESS™
Concentrated STRETCH MARK REMOVER
Skin Whitening concentrated body Elixir
The Ultimate Caviar Enriched Skin Whitening Fluid - 119ml/4.2 Fl. oz
A pleasant, comfortable fluid with Caviar Extract, Sepi white Msh, Kojic Acid & Exotic Argan Oil to nourish and condition your skin.
Visibly reduces size & intensity of dark spots
Skin Whitening Elixir Fast Results
The Ultimate Caviar Enriched Skin Whitening Elixir -  119ml/4.2 Fl. oz
This luxurious gently yet concentrated skin lightening booster elixir delivers highly concentrated active skin repairing and whitening ingredients deep into the skin to restore quality, tone and texture while promoting optimal skin function. A brilliant union of Caviar Extract, Mulberry Extract, Kojic Acid and exotic Argan Oil infuses skin with valuable minerals, vitamins, proteins and other vital nutrients. The skin lightening booster fluid speeds up cell regeneration and accelerates collagen and elastin synthesis. Skin hydration, elasticity and density are considerably increased for a more radiant and youthful appearance. Contain an all-natural blend of organic extracts to help moisturize, recondition, revitalize, soothe and calm inflammation on dry irritated skin and help maximize skin whitening results.
Brightening/Lightening/Whitening Booster Fluid


Renew skin's radiance with a breakthrough formula booster body whitening serum to help even skin tone as it brightens and nurtures the complexion.
How to work it
After showering/exfoliation, apply the skin whitening booster fluid over the entire body. Focusing on areas of uneven tone and hyper-pigmentation. Wait a minute or two then continue to apply your daily skin whitening treatment. Use twice daily until full results are achieved.
Combine with the following products for best results:
White Tea Lightening Gelee'

Fair & Flawless pH 5.5 xF15 Skin Whitening Gel

SKIN SOHO CONCENTRATED  UNDERTONE BODY MILK

Usually Dispatched within 24 -48 Business hours