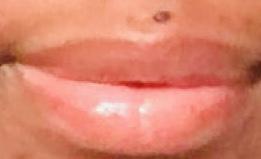 SERVE® LIP BLEACHING BALM
---
Free Shipping for domestic orders over $100
Free Shipping to South Africa, UK and Canada for orders Over $500
 A Prettier Pout Awaits you!
SERVE® ADVANCED LIP BLEACHING BALM
Undeniable Results. Lip Flip pink & pouty
Intensely nourishing SERVE lip bleaching balm. A cult-classic. Concentrated lip  formula. Protects, corrects, preserves all-year round. Pinker, unforgettable TOUCHABLE lips that simply SERVE sexiness.

Smoothes, evens, help to lighten and retexture lips.
Comfortable soft cushioning  redefined lips.
Gives lipstick smooth lasting color and hold
Best seller for Brides. Be a bride with sexy lips
 SERVE ADVANCED LIP BLEACHING BALM
What it does?
Give your lips a kiss of instant glow, volume and softness with this incredible lip bleaching Balm. The rich blend of collagen boosting and marine-based fillers, delicate multiple organic soft tissue skin lightener help to brighten, lighten, bleach, smooth and moisturize the lips, also help to  remove most trace of lip discoloration.
After just 3+ days of 2x daily application, your lips will begin to look noticeably brighter, fuller, pinker and more defined. Put your best appeal forward with noticeably seductive, soft, younger looking lighter lips. 

What else you need to know?
• Helps to erase dark lip discoloration from;—Cupid Bow, upper Lip, Outside Lip/Mouth Corner, Lower Lip
• Helps to remove dark LIP line from around the perimeter of your lips (merimillion stain) Eraser
• Helps to diminishes smoke stained lips
• Helps to contour and make lips appear incredible sexy

Use Fair & Flawless Serve®  ADVANCED LIP BLEACHING BALM everyday, apply as often as needed for maximum results.
Multi-action active natural skin discoloration agents with super powers that target soft tissue lip discoloration according to the skin's needs.

 For hygienic reasons, used or opened lip-care products are a final sale. No returns, no exchanges. 

Please be aware that ingredient lists may change or vary from time to time. Please refer to the ingredient list on the product package you receive for the most up to date list of ingredients. 
Overall:
Reviewed by YING 
WOW IT WORKS REALLY GOOD
Reviewed by Joan 
I like it a lot and it leaves my lips moisturized, but i wish it had spf so i could wear it outside.
Reviewed by Ashwini 
The fragrance and taste of this lip balm is exactly as described. I also love the touch of irridescence that it has. It's beautiful on. This lip balm works and is also quite long lasting. It feels a little thicker and more emollient than other lip balms I've tried; therefore, it does have staying power. I would definitely buy this again!
REVIEWS:
Reviewed by ashli c, 
It actually works. my lips r getting brighter each day, about to order another one.

Reviewed by ashli c
Its been 4 days and im still waiting to see the real effect, theres only been a slight change, im gonna order another one n hopefully my lips will be as pink as Yasmins......

Reviewed by Yasmim , 
There are no words to desrcbie how bodacious this is. My lips are super pink and soft, I thought it would like make my lips peel, but it didn't my bottom lip lightened first then my top lip took about 10 days, it actually gave me baby soft,super pink fresh lips. All I use is a lip balm and my lips are fab